Venice Film Festival Selects GetD for its 3D Screenings
Time:10/08/2016
2020-06-02
For the first time, the 73rd Venice International Film Festival selects GetD solutions for 3D Screenings
VENICE, Italy – For the very first time, GetD (Future 3D Group) is providing its 3D cinema systems and glasses for the 73rd Venice International Film Festival. One of the most prestigious film festivals in the world, the Venice International Film Festival will take place August 31 through September 10, 2016.
The Venice International Film Festival is the oldest of its kind founded in 1932. 3D projection has become a tradition for many years and the organizers will have another promising line up in 2016.
GetD will be providing 5,000 of its high range GT410 active glasses and related IR technology systems for all the major venues during the whole festival. GetD as new global growing 3D market supplier, is pleased and honoured to showcase their active product line during this prestigious event, said Bernard Collard, SVP Marketing| Sales & Business Development.
Bernard Collard added: "We are so glad to see that more and more exhibitors have eventually adopted GetD products and start now appreciating GetD quality and reliability, not mentioning excellent services offered by our well-known and expert local partners. In this case technical support will be delivered by our Trusted Partner Cinemeccanica during the whole event".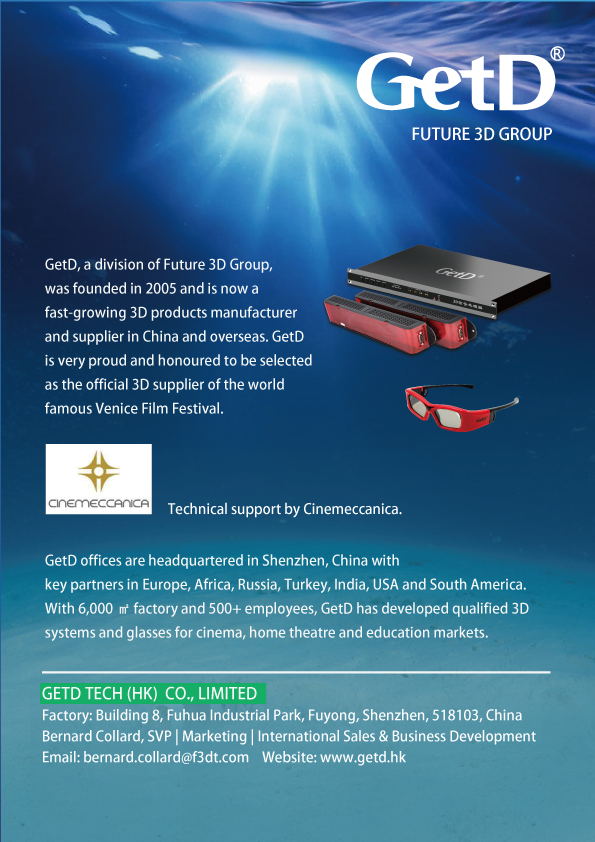 More info about the Venice International Film Festival at http://www.labiennale.org/en/cinema/
About GetD:
GetD Tech (HK) Co., Ltd ("GetD"), founded in 2005, is a fast-growing 3D products manufacturer and supplier. GetD is headquartered in Shenzhen, China, with key partners in USA, South America, Europe, Russia, Turkey and India. With 6,000 ㎡ factory and 500+ employees, GetD has developed highly qualified 3D systems and glasses for cinema, home theater and educational market. GetD is committed to deliver high end quality products at very competitive price as well as customer-oriented services. All GetD cinema products are on Disney & Sony lists of approved 3D equipment with up to 5 year warranty.
More info at http://www.getd.hk/index.asp.
Contact for EMEA, Luxembourg Office: Bernard Collard, email: bernard.collard@f3dt.com .
GetD Media Contact: email to: communications@f3dt.com